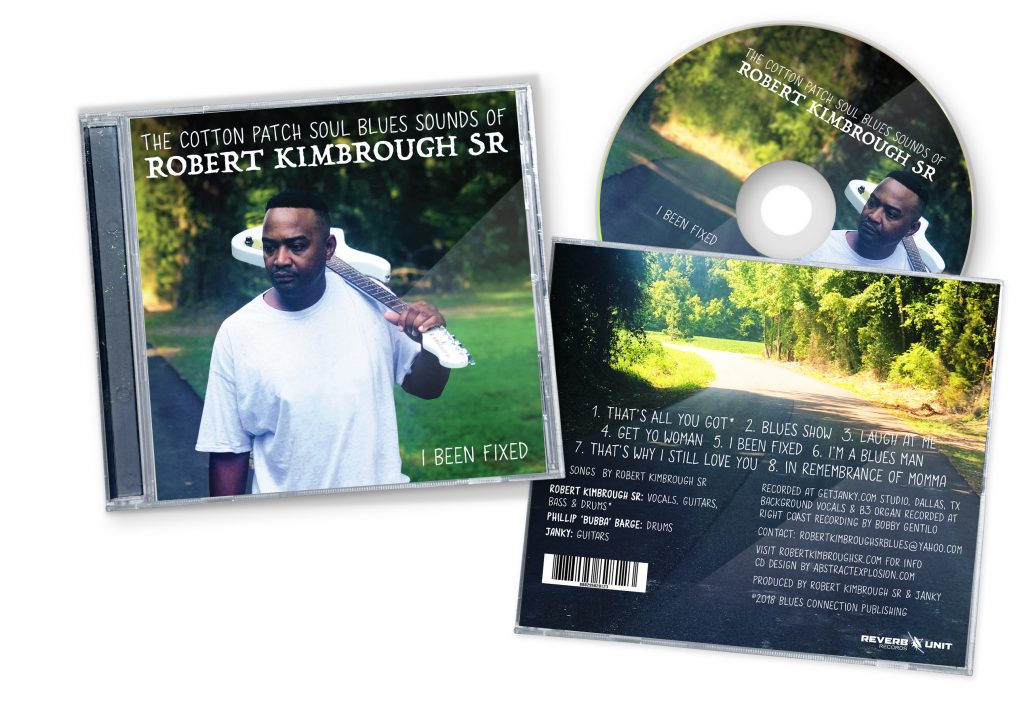 Press Release
November  15, 2018  
Robert Kimbrough Sr – I Been Fixed
(RU18-03)
ReverbUnit Records (ReverbUnit.com)
Contact:
Robert Kimbrough Sr
RobertKimbroughSrBlues@yahoo.com
(662) 629-2853
Robert Kimbrough Sr., son of David "Junior" Kimbrough,  has released his fourth self-produced album on ReverbUnit Records. This release continues Robert's dedication to sharing the Cotton Patch Soul Blues — the genre created by his father in their family-owned juke joints and porch parties. The Kimbrough sound is often referred to as Hill Country Blues but according to family and Junior himself, it is Cotton Patch Soul Blues.
I Been Fixed is a continuation of this sound which is focused on juke joint style, danceable rhythms, and beats — the sounds that he grew up listening to. Robert's voice is mature and reminiscent of Marvin Gaye or Prince. There is a certain air and soulful moaning to Robert's guitar playing that harkens straight back to Junior Kimbrough. Robert plays all instruments on the opening track and guitar and bass throughout the release. That's Why I Still Love You is the highlight of the CD with its intricate rhythm, complex structure, unforgettable hooks, and masterful vocals. This release was engineered by Janky at Janky Studios in Dallas, TX while Robert was on a Texas tour. Dallas drummer Phillip "Bubba" Barge laid down Robert's beats, and Janky handled solos on most tracks. The CD closes with the very emotional track In Remembrance of Momma, a passionate dedication to his late mother, Magnolia Malone whom the family misses sorely.
Robert currently lives in Ashland, MS just northeast of Holly Springs where his father and family have brought the Cotton Patch Soul Blues sound out of the dark juke joints. Robert held the 2nd Annual Cotton Patch Blues Festival this year, a festival which he founded. Robert has been to Switzerland twice and tours all over American with his band, The Blues Connection. Robert was featured in Living Blues Magazine as well as other foreign magazines like Soul Rag and IL BLUES Magazine. Robert has also been featured on Moonshine & Mojo Hands – Episode 2, a blues music film series by Cat Head Delta Blues & Folk Art and Broke & Hungry Records in Clarksdale, MS. To learn more about Robert, view his electronic press kit.
Robert will be hosting a CD pre-release party at one of the only proper places in American to host this type of music: Red's Lounge in Clarksdale, MS on October 13, 2018.
ReverbUnit Records is a homegrown record label dedicated to helping blues musicians release great music. Other ReverbUnit artists include Reverend KM Williams, Janky and EJ Mathews.
For more information, contact Robert Kimbrough Sr. at RobertKimbroughSrBlues@yahoo.com, (662) 629-2853 or
http://www.RobertKimbroughSr.com